by Michael Keating
Chicago on the Small Screen – Shows of Today
image via Unsplash
Oprah left and so did Jerry Springer, but Chicago has replaced talk shows with exciting dramas; several television programs have been and continue to be shot in our amazing city. Besides the tremendous win by the Cubs, there's quite a bit to celebrate in the nation's third largest city. Dick Wolf has created an enormous spotlight on Chicago, with the recent milestone of 100 episodes of Chicago Fire.
Four NBC franchise shows are now based in and filmed here: Chicago Fire, Chicago P.D., Chicago Med, with scenes shot at Cinespace Studio and Rush University Medical Center and now Chicago Justice. Set to air in early 2017, the latest installment of series featuring Chicago's servicemen and women will focus on those that interpret and apply the law. Advertisements on their website announce, "Just like their brethren in the Chicago P.D., the State's Attorney's dedicated team of prosecutors and investigators navigates heated city politics and controversy head-on, while fearlessly pursuing justice."
image via AuditionsFree
Empire is mid-season right now. Well over one hundred actors from Chicago play significant roles in the show. Some hail from institutions such as Second City and others have been performers on the Steppenwolf Theatre's stage. The show features not only talent from the city, but also popular locations within the city, filming scenes on location here, in Cinespace Studios, which is in the North Lawndale neighborhood, as well as Los Angeles.
According to an article last year by dnainfo, Empire "is predominantly shot at Cinespace, 2621 W. 15th Place in North Lawndale. The show runners have dressed up Chicago locations as New York hot spots, including such local favorites as Sunda, Empty Bottle, RPM Steak, Tortoise Club and Blue Line Lounge and Grill. They've also made stops at Cook County Jail, St. Ignatius Chapel, the Hilton Downtown and the Bronzeville neighborhood."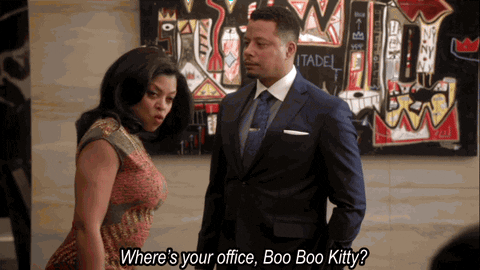 image via Giphy
Another series scheduled to premier on FOX in early February is APB, which promises to be a "new police drama with a high-tech twist". Filmed and set in Chicago, the protagonists aim to create a technology informed crime-fighting team in the 13th district. Early reviews are predicting an exciting first season and comparisons to Robocop are circulating. Check out the trailer here
Reviews on The Exorcist starring Geena Davis are fairly strong. Part of the horror franchise of the same name from the early 1970s, the show delivers thrills on a level that American Horror Story aspires to and generates suspense unlike any other network program on at the moment. Quality special effects contribute to the tension of the narrative as well. In an interview with E!News Online, the star of the beloved League of Their Own remarks, "It's in a world where the events of the movie took place, but now it's forty-something years later and something's happening again. I just love scary stuff." Don't we all?! Probably as much as we adore her.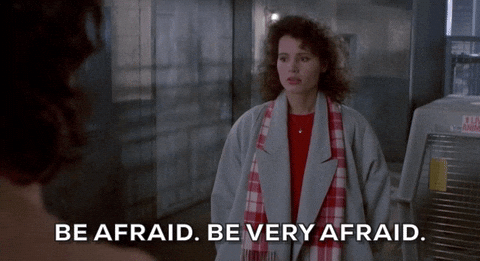 image via Giphy
Chicagoans may also delight in seeing their city on Amazon's Patriot. Observer.com calls it "a gleefully deranged, dark comedy thriller." The show is a solid 4 out of 5 stars based on the nearly four thousand reviews on Amazon's website, and viewers are eager for the next season's release. A political thriller with Terry O'Quinn (Locke from Lost) is sure to keep us on the edge of our seats.
Other shows shot in Chicago include Shameless on Showtime with William H. Macy, Sense8, and Ozark, which stars Jason Bateman . The latter two can be caught streaming on Netflix.
The best source on when and where to catch the crews and casts of the above television shows is a twitter feed: Filming in Chicago @filming_chicago, which is a side hobby of one of our fine residents. Part of the reason television producers are filming here, as if the architecture and talent aren't enough, are the financial incentives.
In December of 2008 the Illinois General Assembly passed the Illinois Film Production Tax Credit Act, which offers producers a credit of 30% of all qualified expenditures, including post-production.  The Illinois Film Tax Credit will not sunset until May 2021, and is renewable in 5-year increments, thereafter.  The goal of the Tax Credit Act is to attract local vendors, union leaders and filmmakers to the Illinois film industry in order to promote growth and job opportunities.
In addition, the tax credit aims to stimulate diversity in production hiring. For questions about the Illinois Film Services Tax Credit please contact Cesar.Lopez@Illinois.Gov. Additionally, information on shooting in Chicago such as scouting out locations, permits, and procedures can be found here and the Chicago Film Office.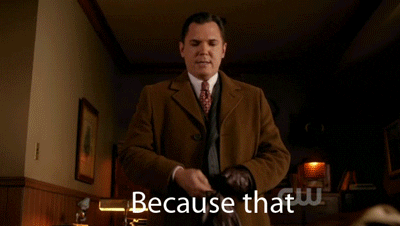 image via Giphy
Interested in the industry? Whether you'd like to be in front of the camera or as part of the crew, check this or this out.
A few years ago, Derek Haas, creator and co-producer of the Chicago franchise did an AMA (Ask Me Anything) on reddit. When asked about using consultants to emulate realism and actual standard operating procedures, Haas replied that both the CFD Deputy District Chief Steve Chikerotis and Michele Martinez, a CFD paramedic, contributed to the beginnings of stories as well as technical language and practices. Haas says that Chikerotis, now retired, "has decades of smoke-eating under his belt and is truly one of the greatest guys you'll ever meet."
Another redditor appreciates the use of real sirens, which contributes to the authenticity of the program. To which Haas replies, "We drive our sound department crazy. We shoot everything on location in Chicago and there is always ambient noise messing with audio. Our guys are great though… and kudos to them for capturing the feel of Chicago and the CFD." Amidst that ambient noise are our cheers for having a city that we can share through the small screen in a big way.
image via FreeImages